Reverse SSH Tunnel Listener
The Reverse SSH Tunnel Launcher script I posted a while ago has some limitations. The worst part is that the tunnel is only open for 5 minutes, leaving too little time to get any work done. This is kind of by design, to prevent having these connections open and "live" when not in use.

The solution to this limitation is another small script, this time just hacked together as a Bourne shell script. Take a look:


#!/bin/sh

while /bin/true; do
  if /bin/netstat -tln | fgrep 127.0.0.1:1337 > /dev/null; then
    ssh localhost -p 1337 screen -d -m ssh -v -R 1338:localhost:22 -N -p 22 192.168.0.1
    echo "New tunnel established!"
    exit
  fi
  sleep 10
done
          

This script will loop forever and wait for a socket to appear on the port (1337) opened by the original launcher. Once this happens, a new tunnel is created (on port 1338) in parallel which will persist forever through a screen session.


Topic: Scripts and Code, by Kjetil @ 02/02-2020, Article Link
---
Strawman
This is a game project I have had lying around for many years, which I finally made into something usable. The initial idea was to make a side-scroller using the SDL library, and the project codename was "Strawman", so that just became the title as well.

The end result is a highly configurable yet simple game. The map data is stored in a text file and can be easily changed. The "game engine" itself is configured through a bunch of #define macros.

Here's a screenshot: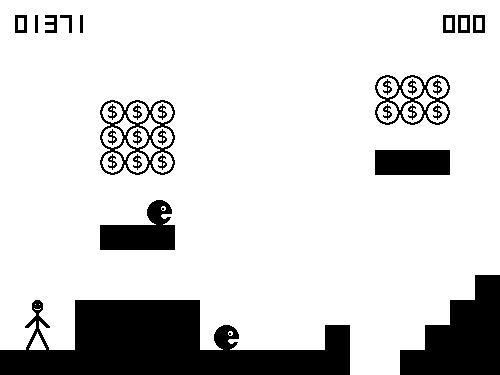 And the corresponding part of the map data, rotated by 90 degrees on purpose, so adding more lines makes the map longer horizontally:


#
# P
#
###
###  #  CCC
###  #E CCC
###  #  CCC
###
#
#E
#
#
#
##

        # CC
#       # CC
##      # CC
###
####
          

The source code is released under the MIT license and can be downloaded here.


Topic: Open Source, by Kjetil @ 01/01-2020, Article Link